Temporary Office Network Installation
Site office buildings, whether temporary or mobile, must be able to communicate with the outside world or even back to a corporate network. Workers, especially in remote areas, cannot afford not to have access to emails, data files or the Internet. Transportable office buildings require a stable IT communications platform and a dependable multi-purpose IT solution for workers in every type of industry. Portable office buildings are practical for any site, from construction and mining to education and government and require a stable IT communications system. 
Temporary WIFI Internet for Portable Offices
Take Internet and wifi network access anywhwere you go with a solid Wireless M2M solution. M2M provides a solution for when there is no fixed infrastructure such as ADSL or Fibre available by utilising a mobile broadband device and the coverage and flexibility of a 3G/4G wireless network.
Remote Equipment Monitoring and Management
Machine-to-Machine, also known as M2M or telemetry, enables remote communication between machines, networks and people. Dial in to any remote monitoring station or equipment using advanced 3G and 4G network communication and monitor equipment in real time or retrieve collected data.
Remote Site Office Computer Networks 
Wireless mobile to mobile communication is opening the door to a new world of possibilities across a limitless range of industries:
Mine and Construction Sites

Disaster areas

Road side operations

Trade shows and exhibitions

Construction Sites

Emergency Services

Mining Sites

Offshore Oil Rigs

Marine

Entertainment – On site locations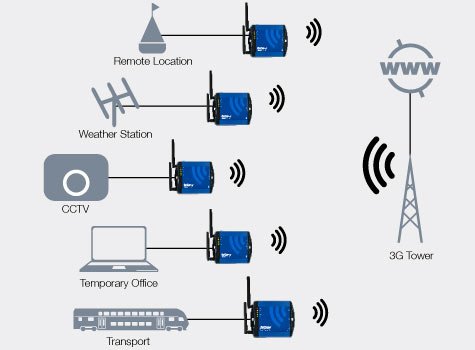 PC Internet Access

Security Alarm Monitoring

Telemetry

Vehicle Tracking

Fleet Management

Wireless EFTPOS

Industrial applications

Data Logging

Backup Data Lines

Environmental Monitoring